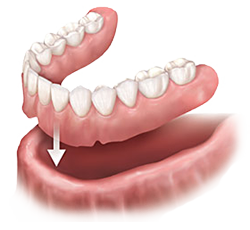 The world of dentures has come a long way. Modern dentures used are prosthetic appliances that can be either full are partial according to the patients needs. A full set of dentures are usually needed when there are no teeth available for any appliance to clasp onto. Usually the need for a full set of dentures is determined to be best when there is extensive decay in which other treatment options can no longer be used. When all the necrotic teeth are gone bone levels are able to stabilize which is what the completed dentures will grip onto. An impression of the mouth is made so that the denture plate fits perfect to the patients mouth. Some patients can retain some of their teeth and keep them in good health. In this instance a partial denture can be made that is fixed permanently to the adjoining teeth or as a precision (removable) denture.
Dentures are needed for various reasons. Teeth can be lost due to accidents where they are completely knocked out and the ability to replace them is just not feasible. Periodontal disease is also a major reason for the lose of teeth. The modern dentures are so beautiful it could be considered an art form. The teeth are made of porcelain and are placed in an acrylic base that is made from the impression taken of the patients mouth. The amount of tissue and bone left after the teeth are gone is very important in determining how the denture will fit comfortably in the mouth. It will take awhile for the mouth to heal after loosing teeth so dentures are not an overnight process. It can take several months to complete dentures of any kind.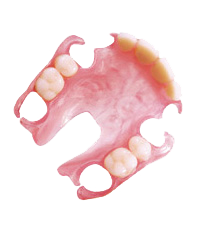 Partial dentures are important in keeping the other teeth in alignment. If one or more teeth are lost it is imperative to have a partial fixed or removable placed in order to prevent the teeth from shifting. The fixed partial is attached to the remaining teeth and will increase the stability of the bite. The removable partial can do the same space maintenance and yet it is removable.
Let the dental team at Silver State Dental practice help you decide what is best for your situation. Dr. Young is highly experienced in helping his patients do what is best for their overall oral health. When the choice is made for dentures of any kind you will be educated on how to care for the dentures. Dentures need to stay clean and moist in order to fit right. Without maintaining the integrity of the dentures the way they should be they can warp and loose their grip.