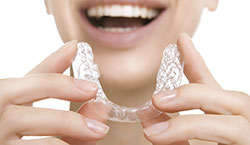 Traditional braces use metal wires, brackets and bands to move teeth into perfect alignment. Over time the health of the mouth can be compromised because good oral hygiene is hard to maintain, especially for children.
Invisalign treatment is a newer, better alternative to traditional braces. When the teeth are crooked and just need to be tweaked into perfect alignment, Invisalign can help. The treatment is much more convenient than traditional wire braces. A series of clear alignment trays are used to gently guide and shift teeth gently into place. The convenient trays are easy to remove for eating and cleaning. Traditional braces can actually cause the health of the mouth to plummet without diligent hygiene. With Invisalign that is not an issue because hygiene is just like your normal routine. No more wires poking and hurting the gum tissue or causing sores that are really painful.
Invisalign are clear barely noticeable trays that fit snugly over your teeth.
Contact the Silver State Dental office today to schedule a consultation visit and see if Invisalign is an appropriate option for you or your teen. The staff is waiting to help you with any questions you might have. Straight teeth are easier to keep clean and the insurance companies are figuring this out. Some insurances are paying more towards orthodontia than ever before because it saves them money in the long run. The office will be glad to help with all the financial questions you might have.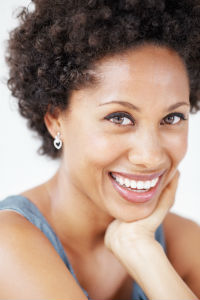 After it is decided that Invisalign is an option an impression of the mouth will be made. This is how the dentist will determine by studying your bite and alignment if Invisalign is right for you. The Invisalign treatment is a great way to achieve the perfect smile you always wanted. Invisalign for teens is a great alternative to traditional braces. Let's face it teens have a hard enough time fitting in and feeling good about themselves. The clear trays will help them get a great smile without drawing unwanted attention. Oral hygiene is always a concern with children and Invisalign can keep the possibilities of active decay from forming since there are no brackets or bands that hide forming cavities from view.
Invisalign creates great smiles that increase confidence levels. Call and set up your consultation appointment with Silver State Dental today.