A dental check-up will involve an oral exam as part of the comprehensive care you expect. If it is your very first visit, expect a thorough oral exam in the process of getting to know you, your history and your current dental status.
An oral exam may include: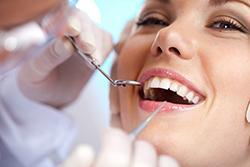 A review of your medical and dental history
A blood pressure reading
Examination of the teeth
Periodontal examination
X-rays
Photographic survey
Head and neck examination and oral cancer screening
Bite and TMJ evaluation
As a result of the oral exam, treatment can be recommended allowing you to decide how you want to proceed. You may be invited to have a consultation to review the information from the oral exam and to understand treatment alternatives, associated costs and have any questions answered.
With the advances in technology and equipment today, your oral exam allows you to play a more active role in understanding the condition of your dental health and in learning how you can be active in preventing small issues from turning into big problems.
In addition, you get a chance to see how improvements have reduced the amount of time patients spend in more comfortable chairs; you are able to discuss your digital photographs with your dental hygienist to better understand how tooth decay naturally occurs and how better to prevent it, and to feel more capable of participating in maintaining your best dental health. Call Silver State Dental to schedule an oral exam today.